The Voicelinx Communicator Go App is available on both Apple and Android devices. It allows you to rapidly roll out a centralized business phone system to your staff without needing to buy expensive handsets.
It also means that staff no longer need to carry both a work mobile and a personal phone, saving both the user the hassle and the company money.
Features include:
The ability to present different work numbers wherever you happen to be calling from.
The ability to immediately set diverts no matter where you are.
Transfer calls to your colleagues (or anyone)
Integrated work contacts list
The ability to use a clever ring back feature if you happen to be on a poor internet connection
Calls still route through the business platform so all the business features you would expect like call statistics and recording are still readily available.

The Voicelinx Communicator app runs through the Voicelinx network and offers many features that can be used in and out of the office.
To support your staff while working from home, they can use our app on their Computer, iPhone or Android as if they have an office extension with them wherever they go!
We can offer a Softphone that works extremely well through your internet connection and a feature that allows the same outbound call to route back through your mobile phone to provide better call quality in situations where the internet connection is bad.
You also have full control over the outbound number you present to clients. The call recipient will not receive you and your staff's personal numbers. This removes the great potential to lose control of your businesses contact points and the ability to record and route calls appropriately.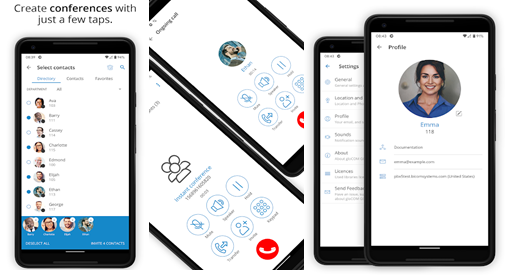 Works with all our other systems and products
This system works seamlessly with our Desktop software version and physical phones. This means you can have a fully customisable system with all the features you want configured the way each member of staff wants and needs their calls.