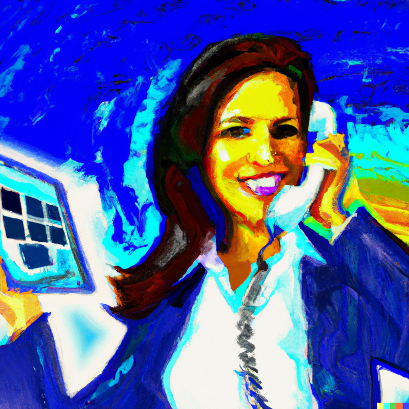 Are you looking to improve your business sales and take your company to the next level? Switching to VoIP with Voicelinx can help! VoIP (Voice over Internet Protocol) is a modern and efficient way for businesses to communicate. Instead of using traditional phone lines, VoIP allows you to make and receive calls over the internet. […]
Continue Reading ...
Case Studies
When Tough Mudder set up the London office, Voicelinx deployed a fully functioning phone system including voicemail to e-mail and conferencing within a day of Internet becoming available. We have 31 extensions in our London office. One of the major benefits of using Voicelinx is their personal attention and in depth knowledge this led to us installing a Polycom IP7000 conference phone which allows us to join skype calls into our regular conference calls.
Yvonne Muller
EA to Europe Vice President, Tough Mudder
AIA, the leading international service provider in cargo management, has 18 employees in four geographical locations. The requirement was for a flexible telephony solution at an affordable price, to be implemented within short period of time. The requirement for 20 DDIs (Direct Dial Inwards numbers) lent itself to VoIP with an IAX trunk. Voicelinx perfectly integrated four of our offices to use 'one' phone system, which made it very much cost effective.
Mark Andrew
General Manager Europe, AIA Cargo
Find a Future is an organisation which brings together the nation's flagship skills and careers experiences: WorldSkillsUK Skills Competitions, The Skills Show, and The Skills Show Experience, to provide every young person with the chance to unlock their potential and get excited about the world of work. We have been using Voicelinx phone systems for over 5 years, across 3 different office locations, with over 100 extensions at times. The ease with which our telephony can be moved, expanded and contracted has been of great benefit to us. We also use Voicelinx for a disaster recovery solution – should our offices become unavailable for any reason.
Louise Stone
Executive Co-ordinator, Find a Future
This website uses cookies to improve your experience. We'll assume you're ok with this, but you can opt-out if you wish. Cookie settingsACCEPT
Privacy Overview
This website uses cookies to improve your experience while you navigate through the website. Out of these cookies, the cookies that are categorized as necessary are stored on your browser as they are essential for the working of basic functionalities of the website. We also use third-party cookies that help us analyze and understand how you use this website. These cookies will be stored in your browser only with your consent. You also have the option to opt-out of these cookies. But opting out of some of these cookies may have an effect on your browsing experience.
Necessary cookies are absolutely essential for the website to function properly. This category only includes cookies that ensures basic functionalities and security features of the website. These cookies do not store any personal information.
Any cookies that may not be particularly necessary for the website to function and is used specifically to collect user personal data via analytics, ads, other embedded contents are termed as non-necessary cookies. It is mandatory to procure user consent prior to running these cookies on your website.