Are you looking to improve your business sales and take your company to the next level?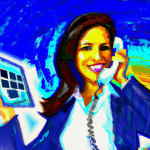 Switching to VoIP with Voicelinx can help!
VoIP (Voice over Internet Protocol) is a modern and efficient way for businesses to communicate. Instead of using
traditional phone lines, VoIP allows you to make and receive calls over the internet. This not only saves you money on phone bills, but it also provides a host of advanced features that can enhance your business operations.
Voicelinx is a leading hosted VoIP provider that specialised in supporting businesses with their communication needs. Our advanced technology and knowledgeable team of professionals make it easy for you to transition to VoIP and start seeing results.
Here are just a few of the ways that switching to VoIP with Voicelinx can improve your business sales:
• Improved customer service: With advanced features like call forwarding and voicemail to email, VoIP makes it easy for you to stay connected with your customers and provide them with the support they need. This can lead to increased customer satisfaction and loyalty, which can translate into more sales.
• Greater flexibility: With VoIP, you can make and receive calls from any device with an internet connection, giving you the flexibility to work from anywhere. This can allow you to be more responsive to customer inquiries and close deals faster, which can drive sales.
• Enhanced collaboration: VoIP offers tools like conference calling and screen sharing that can improve communication and collaboration within your team. This can lead to more efficient work processes and better decision-making, which can ultimately drive sales.
Don't miss out on the benefits of VoIP. Switch to Voicelinx and start improving your business sales today. Contact us to learn more and begin your transition to VoIP.